Jugendherberge Myrthengasse
Myrthengasse 7
1070 Wien
Tel.: +43/1/5236316
Fax: +43/1/5235849
E-Mail: hostel@chello.at
www.jungehotels.at
Quick-Infos: 260 Betten • Geöffnet: Jänner-Dezember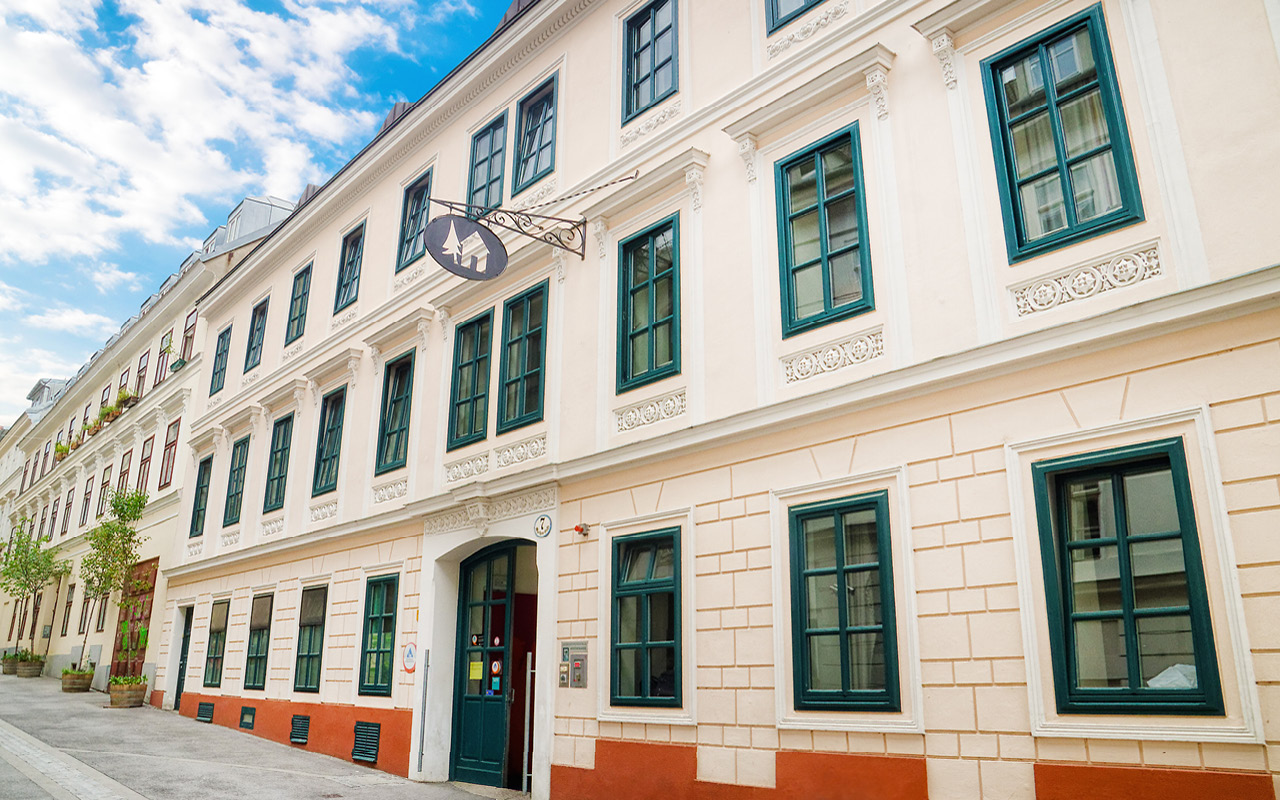 Vienna is waiting for you!
Hostel Myrthengasse
One of the most important cities in Europe, Vienna's visitors can enjoy culinary delights as well as varied art and cultural events. Feel the melody in the air of the city that was once the musical heart of the world. Lovers of culture really get their money's worth here - in Vienna everything is possible! Visitors enjoy musical highlights such as the State Opera, Volksoper and Chamber Opera, Vienna's amazing art museums like the Albertina, or he famous Lipizzaner horses of the Spanish Riding School. Vienna also offers more contemporary fare such as a vivid nightlife full of clubs and pubs and amazing concerts like the Donauinselfest, one of Europe's largest open air festivals.
Accommodations
Close to the museum district, Vienna's famous ferris wheel the Riesenrad, and Schloß Schönbrunn, our modern and well-equipped hostel is the most centrally located in Vienna. Many attractions and shopping opportunities, as well as public transportation like the subway, are a short walk away.
Guests are comfortably accommodated in 17 twin, one triple, 41 four-bed and 10 six-bed rooms, all with shower, some with a lavatory. All rooms are non-smoking. Our guests' safety is endured with lockers for personal belongings and a 24 hour reception without curfew.
Guests can enjoy one of our two television lounges or relax in our typical green Viennese courtyard, winter garden, or sauna. Free wifi keeps guests online. Multipurpose rooms are also available for celebrations, seminars or conferences, as well as a luggage room free of cost on days of arrival and departure.
Dining Options
Three course dinners prepared fresh by our in-house kitchen, with a selection of traditional cuisine as well as vegetarian options, are served in our large, modern dining room Monday to Friday. Lunch bags and a complimentary continental breakfast buffet are available daily.